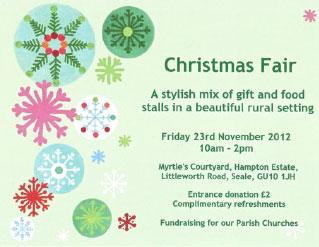 This year's Christmas fair will be held at Myrtles Courtyard, Hampton Estate on Friday 23rd November starting at 10.00am. There is loads of parking and the Myrtles Courtyard entrance is off the Cutt Mill road ( see Myrtles Courtyard page above for a good map). There will be a wide range of different and interesting stalls each with a Christmas theme, plus refreshments and hot spicy mulled wine.
The fair is a fundraising event for the united parish of Seale, The Sands, Puttenham and Wanborough and each stall donates. There will also be a raffle and hopefully blue sky overhead.
Put the date in your diary and we really hope to see you there.