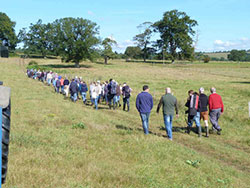 A busy weekend over the 22nd and 23rd September which saw the last of the hot balmy sun and the first of the recent downpours.
Our farm walk was lucky with the former and over 120 made it to Myrtles Courtyard for a stroll through the park for the fit, and a trailer ride for the children. We welcomed well behaved dogs on leads and no fights ensued.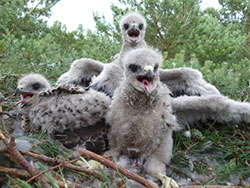 A look at the donkeys, Sooty and Azara, who seemed rather taken aback with so much friendly interest was followed by a tour of part of our pedigree Sussex beef herd who conveniently didn't run away and were most welcome hosts in their own field. Our two expert local ornithologists who joined us for the morning were able to tell us all about Kites, Buzzards and other birds we were likely to spot or hear.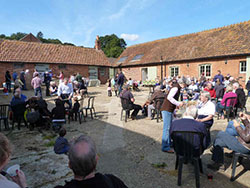 We walked back via the house, looking across the lakes, and everyone enjoyed a local Hampton lunch sampling our 100% beefburgers, fresh salad from the garden, Tongham rolls and most importantly Tongham Tea from the Hogs Back Brewery.
By the next morning the sun had given way to ominous looking clouds but this did not deter any of the 400 riders who successfully completed the annual Hampton Sponsored Ride. Despite torrential downpours the 8 mile course incorporating approximately 40 jumps stood up well to the conditions, the many volunteers were still smiling and all the trailers and horse boxes managed to leave without succumbing to a tow from the tractor standing by. A fantastic £13000 was raised (predominantly for the Phyllis Tuckwell Hospice in Farnham) and some of the very supportive comments are below;
Julie Hanly
"I have to say that I did the Hampton Sponsored Ride for the first time and I was apprehensive because people told me that you have to be mad to do that. Well I was plesantly surprised. My friend and I had a wonderful time! The Marshalls were just great and did a fantastic job. The riders were most considerate and they weren't mad as I was told. I would recommend the ride most definitely."
Selina Hunt-Dewsbury, Jane McEwen and Nina Hutchinson
"We just wanted to say a big thank you to everyone who organised the Hampton Sponsored Ride. We had a lovely day today even if we got soaked down to our knickers and I for one returned home with a happy glow!! This Ride is always so well organised and well sign posted. It is definitely one of my favourites. So thank you to all, especially the Marshalls who did a great job! They must have been so wet and cold 🙁 See you next year. Hopefully the sun will shine."
Hannah Bridges
"We had an amazing time today despite the rain. Such a well organised event and beautiful countryside. Thanks so much to all the Marshalls for braving the rain and keeping us all safe."
Emma House
"Hi – just a quick note to say thanks for today – jumps were fab and the Marshalls wonderful considering the rain they had to put up with – really well run and very much enjoyed it. Thanks!"
Rose Williams
"Thank you so much for a great ride. My friend Loren and I had a great time and were lucky enough to finish before the rain came down in earnest! A big thank you to the organisers and especially the Marshalls who braved the horrendous rain. We really do appreciate what they do. I really look forward to next year!"
Sarah Bowe
"I so enjoyed the Ride yesterday and would like to say thank you to all involved – particularly the Marshalls. Truly heroic given the weather!"
What a fantastic success on a very nasty day and next year's ride date will soon be confirmed.